WEE FIT – The Water, Wood, Wind and Earth Element Fitness Workout – (the anti Wii Fit!) WEE Fit is an original Outdoor Fitness class that connects you with the natural elements of Wind, Water, Wood and Earth using Pilates principles.  You will increase strength, tone, and conditioning in this fun and challenging workout that is designed to increase energy and create results you can see and feel! Train safely, protect your joints, and receive personal attention in weight training at a group rate!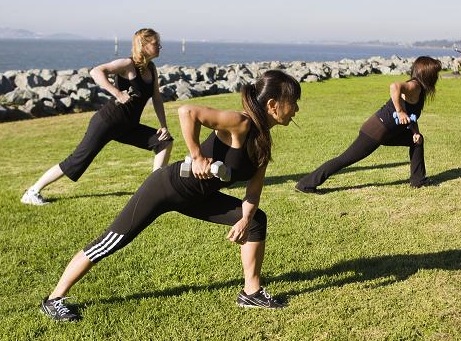 "The only way you can hurt the body is not use it. Inactivity is the killer and, remember, it's never too late." – Jack LaLanne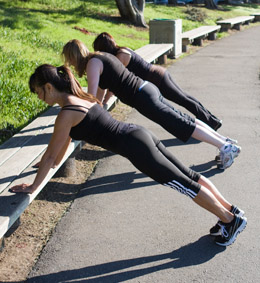 Class begins with a warm up and light cardio. We then take in the beautiful San Francisco Bay skyline, absorbing the fresh air and waters as we lift, lunge, crunch, stretch, squat, and squack! alongside the sea birds and sailboats.
Trees serve as props and the grassy green earth support our spine for ab/core work.  Come prepared for a total body workout and mind-body transformation!
I have been taking Marie's various Pilates and Wee Fit Boot Camp classes for over a year. Pilates has completely changed the way I look and has created a chain reaction to a healthier way of living. I have dropped 30 pounds and have gone from a size 12 to a size 6 since I began taking her classes. Marie's classes combine various exercises that include Mat Pilates, resistance training with free weights, Bands, and the Pilates Ball, which never gets boring. Since I have been taking Marie's classes I look and feel great and that has definitely boosted my self-esteem .. Katrina Tange .. More Testimonials
Call/Email for more info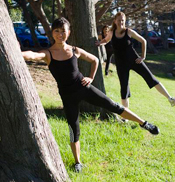 WEE Fit meets most Sundays for 90 minutes starting at 10 AM. Dress comfortably, in layers- according to the weather. Bring a mat, weights and water.
 We are currently doing TABATA 20/10-high intensity interval training! Come check it out! 
Sundays: 10:00 – 11:30 AM
Drop In – $20
Class cards available